Sunday, November 17, 2019
6 Tips for Selling Your South Florida Home This Summer
By Meredith Hale
Summer is sizzling in South Florida, and despite conventional wisdom about the best time to sell a home, there's no time like the present. Summer is still a good time to sell and to play to your home's strength. Here are six tips to sell your home this summer in South Florida.
1. Put Outdoor Areas in the Spotlight
In summer we gravitate to our pools, lawn chairs, and grills. This is your yard's time to shine. Tidy up your deck, polish the patio chairs, and get the outdoor kitchen looking its best.
No deck? No problem. Create the illusion of an outdoor room by arranging furniture in a way that invites visitors to pull up a seat and chill out.
Make any necessary repairs to siding, windows, screens, and doors. Refresh any peeling paint, and use the power-washer to clean up sidewalks, patios, and pavers. Clean the windows inside and out. Throw out outdoor furniture that has seen better days. Consider framing your walkways, driveways, and flower gardens with some lighting.
2. Put Landscaping in Order
Your lawn and landscape need to look luscious to bring buyers to your home. Make sure your lawn game is on point months before you list your home. This includes fertilization, proper watering, as well as aeration, and reseeding any bald spots. Ideally, your lawn will be looking tip-top by the end of spring and from there you simply need to practice solid maintenance. Add some colorful potted flowers at the entry and making sure your flower beds are healthy and full. Remember, curb appeal matters and can add 3%-5% value to your home.
3. Keep the Pool Pristine
During the long, sultry days of summer, pools are catnip to homebuyers. Make sure the pool is sparkling before any showings, and curate a sitting area next to the pool that entices potential buyers to sit down for a minute.
4. Play a Gracious Host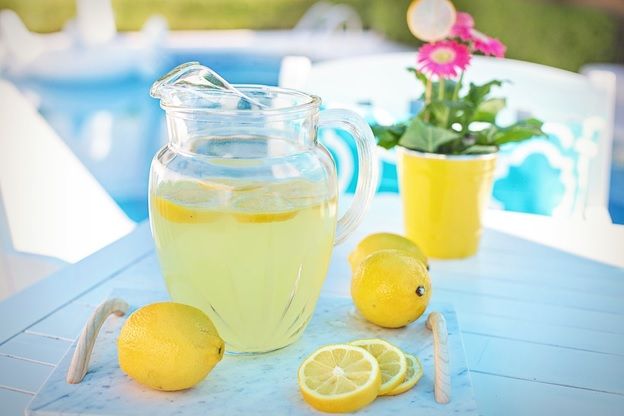 It's summer, and hot, so add some personal touches to help visitors viewing your home linger a little longer. Leave a pitcher of lemonade in the refrigerator for the real estate agent to bring out to the deck or pool and set it up on a table. Invite viewers to have a seat and relax with a refreshment.
5. Show Off Your Climate Control
You've got a killer HVAC system, and it will play a starring role in the daytime drama of summer home showings. Visitors may love the pool and patio, but when they step inside to cool comfort, they will love your home even more for the sweet relief it offers. Change your AC filters and make sure your system maintenance is up to date. Want to get trendy? Install a smart climate control system. Then you can let buyers know that while driving home from work, they can use their smartphones to drop the temperature to "ahhh."
6. Offer Flexible Showing Hours
Remember that your potential buyers may be from out of state or even international. Their time may be limited as they see multiple properties while trying to enjoy a bit of vacation. Local buyers may be trying to squeeze in viewings after work and may have to drive a while to get to you. Twilight hours extend until nearly 9 p.m., so if you can allow later showings, you can get more eyes on your property during somewhat cooler temperatures.
Summer is a prime time to sell your home in Florida. Just a little due diligence and you can whistle a cool tune all the way to the bank, just in time for autumn.
Meredith Hale is a gardening and landscape writer, and design addict. She has coordinated the design on many house flipping projects, admitting that her favorite part is creating inspired outdoor spaces.